Canada announced, on Sunday, the closure of its Tehran embassy's visa section. It's anticipated that the move will likely affect thousands Iranian travelers. The Canadian Embassy published the following statement on its website on Sunday, April 29th, 2012:
Notice – Closure of the visa office in Tehran

Effective immediately, the Visa and Immigration Section at the Embassy of Canada in Iran (Tehran) is closed and services have been transferred to the Embassy of Canada in Turkey (Ankara).

The visa office in Ankara will now be responsible for processing all applications from Iran, in addition to being responsible for applications from Azerbaijan, Georgia, Turkey and Turkmenistan.

The transfer of temporary resident services from Tehran to Ankara has been in the planning stage for a while. Ankara is already responsible for processing permanent resident applications from Iran.

Each year, CIC evaluates its network of immigration offices and explores ways of doing business more effectively and efficiently.

Shifting visa services from one visa office to another is not uncommon. Our new processing system, the Global Case Management System (GCMS), allows visa officers around the world to share workloads easily and efficiently.

Temporary resident services

If you are in Iran and want to submit a temporary resident application, you must now apply through the visa office in Ankara You are not required to include your passport with your application. The visa office in Ankara will contact you if the visa is ready to be issued and make the necessary arrangements in order to facilitate this process in person.

Iranian nationals outside of Iran can submit their application to any other Canadian Visa Office.

Temporary resident applications that have already been submitted will be transferred to Ankara where processing will resume.
As the move will likely create significant hardship and un-necessary financial burden on thousands of Iranians, in particular Iranian-Canadians, Dr. Reza Moridi, Iranian-Canadian MPP from Richmond Hill, as well as the Iranian-Canadian Congress have issued statements objecting to the decision of the Government of Canada: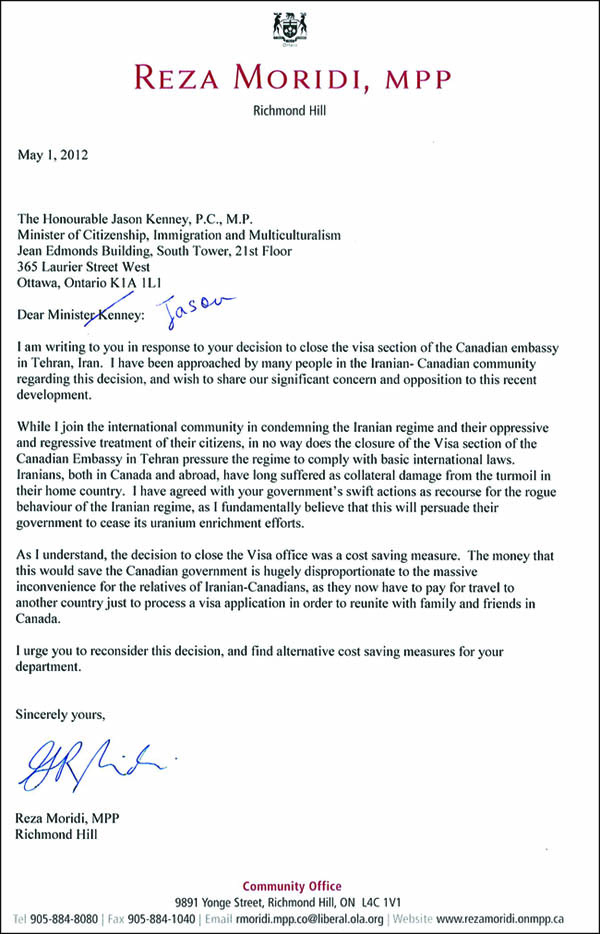 Iranian Canadian congress statement:

The Iranian Canadian Congress (ICC) is aware of the closure of the Government of Canada's visa office in Tehran.  The ICC is consulting with immigration experts, community members and the government to better understand the ramifications of this closure. 

 We firmly believe that decisions by the Canadian government that affect Iranian-Canadians and their families should be taken only after proper consultation with the Iranian-Canadian community.  We further believe that decisions by the Government of Canada should not impose undue burdens upon Iranians who wish to visit their families or immigrate to Canada. 

 The ICC will continue to monitor and study the issue and will take action as appropriate.  We commit to keeping the Iranian-Canadian community apprised of any developments.