Minister Kenney also has said that the cuts will discourage "unfounded" refugees from taking advantage of Canada's generosity, the Star also reported
Last Monday, demonstrations in ten cities across Canada, including Toronto, took place to demand the federal government reverse the spending cuts made to healthcare for refugees.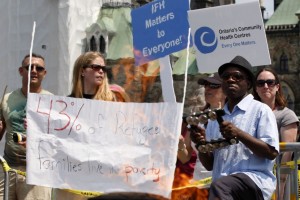 The protests were endorsed by 15 health-related professional organizations from the Royal College of Physicians and Surgeons of Canada to the Canadian Pediatric Society, Canadian Nurses Association and Canadian Association of Social Workers, according to the Toronto Star.
A rally in Toronto was held outside the immigration office on St. Clair Ave. E.
"Asylum seekers will see much of their health coverage — from vaccinations to lab tests, diagnostic and ambulance services — gone unless their health condition puts public health at risk. Some of them also stand to lose pharmaceutical care, dentistry, vision care and access to devices such as walkers and wheelchairs," The Star reported.
Federal Immigration, Citizenship and Multiculturalism Minister Jason Kenney has said the cuts will save $100 million over five years.
The cuts will take effect June 30.