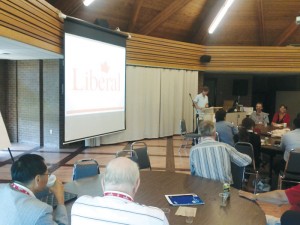 On Saturday, August 25, the Liberal Party of Canada Central Region held an organizational meeting at Seneca College in King City (King Campus). It was well-attended with members from all 18 ridings in the Central Region filling the conference room to participate in the discussions and planning for the growth of the party in the year ahead.
 
The morning session consisted of several roundtable discussions facilitated by experienced executive members who led the exchange of ideas for their respective areas of responsibility. Some incisive questions were posed and vigorous exchanges created a fertile ground for future action.
The afternoon session brought everyone together from the roundtables to ask the critical question: "Where do we go from here?" Some concrete plans were committed in the areas of regional presidents, communication and fundraising. The entire focus was to maintain the momentum which the Party in the region has created in the past year.
The keynote speaker for the day was Mike Crawley, the National President of the Liberal Party of Canada. He informed the assembly of the strategy of the Party's National Board to increase Canadian interest in the party. He emphasized the huge opportunity for growth in the near future. Mr. Crawley's primary concern, however, is to ensure the Liberal Party is an integrated, collaborative party in which everyone is working together nationally. He suggested that, if the party is cooperative and united, the prospect for success in the next election is encouraging.
Jeff May, the president of the Central Region, organized and led the agenda for the day. Special thanks were extended to the facilitators with prominent roles in the party: Tyler Banham (Executive), Harry Mortimer (Financial), Bob Weeks (Secretary), Carol Golench (Policy), Kerry Nelson (Membership), Jason Cherniak (Communications), and Gary Gladstone (Fundraising).  
By: Ken Kishibe