The current saga surrounding the TD Bank account closures of Iranian-Canadians has played out much like a roller coaster ride; an arduously slow and steep incline at the beginning followed by a quick burst of speed, carrying into bumps, twists, and loops.
All that remains is the final turn towards the end of the ride.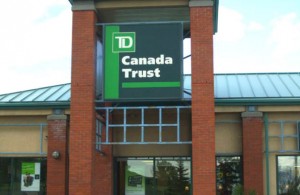 The now controversial issue that began with a few emails and telephone calls to Salam Toronto has morphed into a national story; one that touches on alleged discrimination, hearsay and foreign affairs.
Two months ago, around mid May, Salam Toronto began receiving telephone calls and emails from disgruntled Iranian-Canadians alleging TD Bank began closing their personal accounts, credit cards, and mortgages without being given any reasons why.
Salam Toronto published one of the letters, written in Farsi, on May 17.
It was roughly the same time a Facebook page titled "Condemn TD Bank in their Treatment of clients with Iranian Background" was created by who we now know was Pooya Sadeghi, the husband of one of the recipients.
Mr. Sadeghi and his wife Maryam Tabatabaei were one of the first two Iranian-Canadians wanting to take the issue public.  
After reviewing Tabatabaei's notice, Salam Toronto contacted TD Bank Group spokesperson Barbara Timmins, and around May 28, she gave a vague statement saying the account closures attributed to either sanctions or TD risk assessments.
Timmins declined to give any more information, but did offer to make sure those affected received calls back if we provided their contact information to her. We gave Tabatabaei's information, with her consent. Again, TD declined to give any reason.
Despite the lack of information, on June 21, Salam Toronto broke the news.
Media outlets including the BBC, The Ottawa Citizen and CBC began their own investigations by then. Through Sadeghi's Facebook page, and in one case through Salam Toronto, the mainstream media began looking for individuals affected by the closures.
By the first week of July, the rollercoaster began its speedy descent from its tallest peak.
On July 7, the same day the Iranian Canadian Congress (ICC) held a fact-finding event on the issue – where around 50 people gathered and more than five Iranian-Canadians shared stories of their accounts being terminated – the Ottawa Citizen published the story that quickly turned into a national controversy.  
The Citizen's report made it clear that TD was complying with the federal regulations under the Canada-imposed sanctions on Iran, known as the Special Economic Measures (Iran) Regulation.
Soon after, The Vancouver Sun, several CBC television and radio programs – including The Current, Metro Morning, Q, and The National – BBC Persian, Voice of America, the Toronto Star and CTV News all followed suit with their own coverage.
The increased media coverage spawned a rise in public interest. Mr. Sadeghi's Facebook page went from 50 "likes" back when the story broke to currently hovering around 830. A petition created last week to boycott and denounce TD's actions went from around 40 signatures to nearly 400 one week later.
On July 14, Iranian-born Richmond Hill MPP Reza Moridi got involved, sending a letter to TD Bank Group President and CEO Ed Clarke, urging TD to "reconsider this practice, and target only those bank accounts that are actually in contact with the Iranian Regime".
All the pressures seemed to cause a response from the bank.  
According to Timmins, the ICC contacted TD and both parties agreed to meet sometime during the next week, likely on July 22 or 23. For now, Iranian Canadians affected await the meeting for instructions and advice from the ICC afterwards.
At the ICC fact-finding event, contact information was gathered by the organization in order to update those affected. The ICC has said that they will also post information on their website once they've deliberated and have prepared a strategy.
The rollercoaster seems like it is making its last turn around the bend and towards the finish line.
TD alleges that they made phone calls and sent letters in an attempt to gather information and update accounts in order to clarify issues with sanctions. In some cases, Timmins admitted no attempts were made to update or gather more information.
"In some cases we may have asked the customers for more information," Timmins told Salam Toronto. "But in other cases where it had to do with those factors (sanctions), we may not have."
"So what we've committed to (as of Monday June 16) is that for customers who did not respond to us, we will reach out to them within the next 30 days to confirm or update their information," Timmins told Salam Toronto. "We are not reaching out to re-open their account."
But Timmins did say that "there is a possibility that the banking relationship can be reopened."
She also said that TD is confident on how they have applied the sanctions, but will look to find ways to improve communication with customers to "respond to them better."
Regardless of TD taking measures to respond to the outcry, there are still questions that linger and people expressing frustration. The next week may finally give a picture of how the quarrel will end. But for now, the saga continues.