Evidence of invasive insect identified in all nine municipalities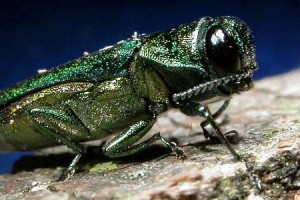 NEWMARKET – The Regional Municipality of York has confirmed the presence of the invasive wood boring beetle Emerald Ash Borer (EAB), in all of our nine local municipalities.
The preliminary results of the ongoing survey indicate the EAB has spread throughout the Region.
Results of York Region's EAB trap monitoring survey indicate the municipalities previously unaffected – the Towns of Newmarket, Georgina and East Gwillimbury, and the Township of King – now shows signs of infestation.
The infestation rates are lower further north into the Region, however dead and dying ash trees will become more obvious throughout the Region over the next few years.
 "Within 10 years, most of the ash trees in York Region will, regrettably, be gone," said York Region Chairman and CEO Bill Fisch. "York Regional Council supports the EAB Management Plan, which has a focus on timely tree removal and replacement coupled with strategic tree protection."
The removal and replacement of dead or declining Regional street trees will begin this fall in the City of Vaughan, the City of Markham and the Town of Richmond Hill. Affected ash trees on private property are the responsibility of the property owner, and York Region encourages residents to speak with a qualified arborist or tree care professional to determine the best course of action.  There are options for residential tree protection, or removal and replacement. Tree care companies and arborists are listed in the Yellow Pages under "Tree Services" or by location through the International Society of Arboriculture , www.treesaregood.org
York Region initiated a Technical Working Group in 2011 to co-ordinate efforts and share best practices with municipalities, agencies and stakeholders. Most municipalities have EAB management plans to help guide decisions on managing this invasive species on municipal property.
"The Emerald Ash Borer is a serious threat being dealt with by municipalities across North America," said Town of Richmond Hill Regional Councillor Vito Spatafora, Chair of York Region's Environmental Services Committee. "We can't stop it, but it is important to continue to manage and invest in the urban forest. Efforts to slow the spread will help, including not moving firewood as the EAB can be spread through the movement of infested wood."
For more information on the Emerald Ash Borer, please visit the Canadian Food Inspection Agency website, www.inspection.gc.ca/pests or call 1-866-463-6017. Information can also be found on the front page link at www.york.ca