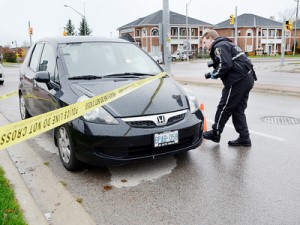 A 30-year-old Toronto man was hit by three different cars, including a police vehicle, last week in a bizarre incident that ended up being probed by the province's Special Investigations Unit (SIU).
The fatal incident happened on Nov. 1 when the man was struck by a car around Yonge St. near Stouffville Rd. at 3 a.m., according to Yorkregion.com.
The driver of the car that hit the man first drove away and shortly after, the pedestrian was hit again. The driver of the second car that hit the man called police. The officer first to respond also hit the man.
"Although SIU investigators believe one or more of the impacts killed the man, they cannot say conclusively that the officer drove in a dangerous manner," Yorkregion.com reported.
The officer was cleared of charges by the SIU.
The driver of the first vehicle that hit the man turned himself in and was charged with failure to stop at the scene of an accident that caused harm and death.