Is it still possible to save entire David Dunlop Observatory (DDO) lands from development?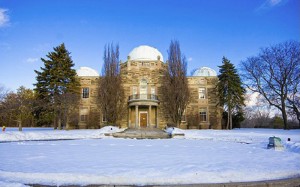 Only three more days of the Observatory Ontario Municipal Board hearing is left: Sept. 4, 5 and 10 where last two are likely the closing arguments.  The Semi-judicial case hearing is between developer and Richmond Hill Naturalists, who are the only organized group opposing developer's application based on the multi-party settlement that would see 530 homes built on 77 acres, with 99 acres gifted to the town. They are challenging the developer –Corsica's proposed development pan and their environmental impact studies deficiencies and plan's adverse effect on environment. Their steadfast position in the OMB hearings on preserving the entirety of the DDO lands, a viable research facility, a future space and astronomical museum, and a tourist attraction, is applaudable.
530 units in the 'Settlement' could easily be substitute with 2 highrise apartment building in few acres of land anywhere in the Town, where the traffic and other facilities is much better thought after. The uniqueness of DDO lands won't be easily substitute anywhere even in Ontario or Canada, let alone in Richmond Hill. That's why the Province and Federal authorities –through Richmond Hill representatives MPP Reza Moridi and MP Costas Menegakis-need to have a harder look for ways and means at their disposal to contribute to a funding formula to preserve these lands and find a solution to return it back to public ownership and create opportunities for all Canadians.
Below, my thoughts on a funding solution for the issue, where critiques of RH Naturalists maintain the lack of thereof in their arguments, is published on Thursday's Aug. 23 edition of The Liberal as well as online in York Region News under letter to the Editor in opinion section.
http://www.yorkregion.com/opinion/letters/article/1490720–3-levels-of-government-must-preserve-observatory
3 levels of government must preserve observatory
Letter to the editor
Looking 30 years down the road when almost every developable piece of land in Richmond Hill has been exhausted; it may seem regrettable that all resources weren't examined by all three levels of government to preserve the entirety of the green, historic and cultural lands around the David Dunlap Observatory.
As significant and important as the eastern portion of the lands are for the integrity of the site, every effort must be made to save this unique green space for residents, the province and Canada. The 99-acre gift in return for 77 acres of development in the agreement would create a secluded park accessible only through a narrow street, rendering it less efficient and causing unwanted traffic for residents.
As the main beneficiaries of such a major asset, residents need to share its burden. To a lesser degree, the same is true for provincial and federal governments, who will be recognized for their investment in the future of Ontarians and Canadians. However, looking only to outside funding is not a solution and either is expecting Richmond Hill residents to take the burden of the full price tag.
Sound fiscal management has put the town in a position where it is capable of taking bold action to invest in a major asset with minimal risk.
As well, the town's accumulating park levy is expected to grow and needs scarce green spaces in which to invest. With the stunning rate of land appreciation in the town and region, residents won't regret their short-term pain for the long-term gain.
To persuade a reluctant land owner to trade his land, negotiators would have to come up with an offer that would outweigh the benefits of their development plan. This is possible through careful evaluation of resources of all three levels of government.
A land swap, flexible loan guarantee (such as the one offered by province) or tax credit options may be part of an offer to the developer. Even Markham Mayor Frank Scarpitti's suggestion to pitch in with their park levy funds could be examined if additional resources are needed.
All these incentives need to be based on an agreed funding formula to share the price tag by the town, province and federal government.
All leaders should embrace the challenges, be innovative and develop a solution to preserve a unique landscape for Canadians' future.