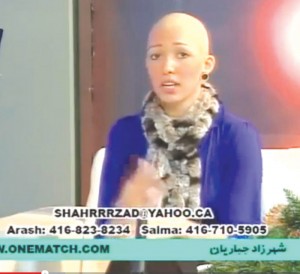 A 24-year-old Iranian-Canadian is searching for a match that will help save her life.
Diagnosed with Leukemia last September, Shahrzad Jabbarian has received support from the Iranian-Canadian community throughout the Greater Toronto Area to find her a bone marrow donor.
An information and testing session has been organized and will take place on January 19, 2013 in Richmond Hill. The session will be delivered by OneMatch Stem Cell and Marrow Network, under the management of Canadian Blood Services – a not-for-profit, charitable organization whose sole mission is to manage the blood and blood products supply for Canadians.
Interviewed by Ten TV's Aitous Rasouli, an emotional Jabbarian explained her dilemma and the treatments available. The interview can be found on YouTube.
The Iranian Canadian Congress also posted an article on their website this week asking community members to participate in the Unrelated Bone Marrow Donor Registry
Leukemia is a type of cancer that starts in blood-forming tissue such as the bone marrow and causes large numbers of blood cells to be produced and enter the bloodstream.
A stem cell transplant is a procedure to replace diseased bone marrow with healthy bone marrow. One can receive stem cells from a donor if the marrow is a perfect match. According to the ICC's article, "medical professionals have indicated that the best way to find a bone marrow match is to seek a donor in her cultural community."
The information session will take place on Saturday January 19, 2013 between 1 p.m. and 7 p.m. at Persian Palace, which is located at 10711 Yonge Street in Richmond Hill.
The Ten TV interview with Shahrzad Jabbarian